Finding Diamonds in the Dirt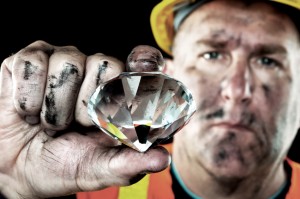 I found something today, buried in the ruins of my so called life, I found something that has identified a slow and steady change.
I've been a man without a mystery, it was only recently that I began to wear my little wooden cross around my neck, strangely it's the one cross that I own that has not been blessed by a priest, so in some respects it's ornamentation. But as of late it's with me more than not, I wasn't sure for a long time, but I got a startling clue this afternoon.
We had to move again, it wasn't something we wanted to deal with, but circumstances forced our hand, and so we packed it all up, sold off a bunch of stuff we didn't need. Today I'm working on my office, unpacking memories, and trying to give myself a place where I can be fully me.
In my stack of papers I found some cards, one was a sympathy card from my former team at work, expressing their compassion at the loss of the matriarch of my Mothers family, the year before I lost my hero when my Grandfather passed beyond his mortal remains. It's a touching reminder of loss, and how we all share in the grief of living and dying.
But in that same stack was two cards, one from a little lutheran church in Corpus Christi, it is signed by a group of volunteers who knit prayer shawls, and give them out to those who desperately need hope, the shawl is prayed over constantly. It was given to me by my aunt during the time I was healing from my concussion, and with it came a second card signed and written by my aunt.
This little act of mercy touched the heart of a man who lost his faith, still recovering from the loss of someone close, and dealing with the brutal, maddening, unfairness of life. Inside the second card is this inscription:
Paul,
We are praying for you. I hope you will heal fast.
God Bless You!
Auntie Dulce
I stopped my unpacking and sat down to reflect, the last few months have been emotionally draining. Michelle has given me room to breathe and mourn, and I needed it, I had a very emotional talk with Fr. Mark about what I was feeling. The parish has not treated us any different, which for an old Baptist is something that I really have a hard time coming to grips with.
When the implications of a group of women who I have never met, would take the time, and skill to create a prayer shawl, for someone they never met, settled on me. Well, I consider it a diamond in the dirt of my being fallibly human, it touched something deep inside, it's going to hasten a change that I have seen coming for a while now.
Around my neck is a small wooden cross, it has no monetary value, it's simple and plain. I wear it because I like it's simplicity, and it doesn't irritate my skin. It sat for a long time on my night stand, I wasn't sure if I would ever wear it again, but in the last few weeks it has started to hang around my neck more and more.
It's part of a change, a metamorphosis if you will, starting deep within where the hurt and loss once ruled supreme. Overshadowing all parts of my life, that endless darkness is now being replaced slowly and steadily by a new light. I even considered going to service tomorrow, which surprised me. I'm not ready, but the fact that I even thought about it, and could feel the warm embrace of standing in the grandeur of the Divine Liturgy in my mind, tells me that the change is picking up speed. I still need some time to process everything, as Michelle and I settle into our new home, it will only accelerate the change.
There are other questions that will have to be dealt with, but those will have to wait, I'm not going to force the change, I'll let it happen naturally. But happen it will.
Divine Providence, or Random Occurrence?
Maybe, just maybe, that Shawl was meant for a different type of sickness, and only now is it's true intent coming to light.
Only time can tell at this point…
Share your thoughts, post a comment.